Wonder Core Smart is a compact exercise machine the manufacturers claim is the ultimate way to work your abs and core muscles, and promises to get you in the best shape of your life. It has resistance springs on either side of its padded seat and they say you can use it to do 8 different exercises plus cardio.
The new Wonder Core Smart 2 claims to include 12 exercises and is supposedly a 12-in-one abs system.
Wonder Core Smart consists of a seat and two padded moving "arms" (or "legs"). These are controlled by two hidden interior springs and a knob, which they claim when turned delivers 24-48 lbs. of "dual resistance", both up and down.
The Wonder Core Smart exerciser is supposed to be a compact fitness aid that allows you to exercise your upper, middle and lower abs and your obliques without putting stress on your neck or back. It can also be used to target other muscle groups, including the triceps, biceps, forearms, thighs, glutes, and calves.
You can choose from:
1. Sit Ups/Crunches
2. Push Ups
3. Bridge
4. Scissor Kicks
5. Forearm/Biceps
6. Triceps
7. Ab Tucks
8. Bicycling
Depending on the exercise, you either sit, recline, push down, or pull up the resistance arms (it comes with a DVD with 2 35-minute workouts and Exercise Guide to explain further). If used regularly and as indicated, they exclaim you will have the 6-pack abs you always wanted.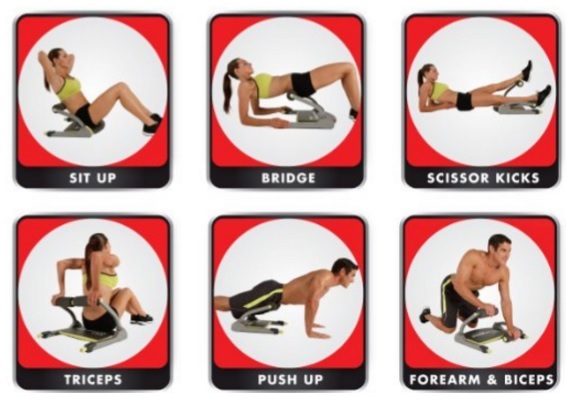 Dimensions – The Wonder Core Smart exerciser measures 20.5? x 21.6? x 15?
Weight – It weighs 15lbs
User weight limit – The maximum recommended user weight limit for this product is 250 pounds
Included in your Wonder Core Smart system purchase is a user's guide, a fitness DVD, a workout poster, and an anti-slip mat.
Critiques of Wonder Core workouts
Overall, it can provide some variety to the workouts for some user. For example, some people find sit ups are boring and they hurt the neck and back. Done on the Wonder Core Smart exerciser, they're fun. They're also pain-free.
But, overall, experts think that of eight exercises, almost all of the movements are assisted by the machine's spring-loaded design, thereby decreasing the machine's efficiency because essentially it's doing the work for you.
The amount of assistance a user receives is determined by settings. One exercise doesn't even work the intended muscle group.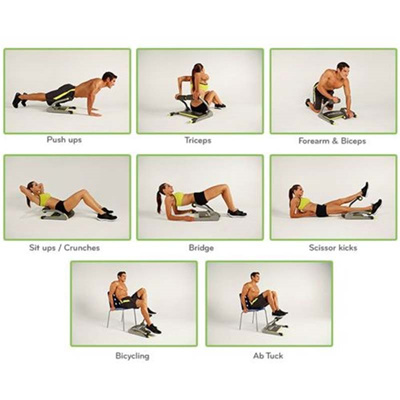 Sit ups
In the sit ups, the machine is assisting by pushing your body upward, against gravity, when you do the upward motion.
2) Push-ups
Same as with sit-ups/crunches, the machine is assisting by pushing your body upwards against gravity and reducing the workload.
3) Bridge
Same as with sit-ups/crunches and pushups, when pushing up into the bridge position, the machine is pushing in the same direction, thus assisting you through the workout.
4) Scissor Kicks
This exercise actually works the glutes and hamstrings when pushing down. On the up phase, it would actually assist your abdominal muscles.
5) Forearm/Biceps
This exercise ACTUALLY works the triceps, not the biceps. If you're bending your elbows on the up phase, then the machine is pushing in the same direction.
6) Triceps
This exercise does work the triceps, with the intensity is determined by the machine's settings.
7) Ab Tucks
This is an assisted movement and the effectiveness of the ab workout would be offset by the machine setting.
8) Bicycling
This is called a bicycling exercise despite there being no circular movement like peddling. It would probably work your glutes, hamstrings, and calves a little bit. The machine provides assistance on the upward phase.